MBS PRO 95 - PRO FREESTYLE -
Thanks to the introduction of the new Vector Pro trucks with titanium axles, the Pro 95 is over a pound lighter than it's predecessor the Pro 12, and the fact that this savings is in the area of the trucks means that the spin weight of this board is less than any pro board ever made before it. This thing spins like a top! A freestyler's dream - the competition's nightmare.
FEATURES:
HOT NEW GRAPHICS! CLICK HERE FOR A CLOSEUP VIEW
NEW VECTOR PRO Ti TRUCKS WITH TITANIUM AXLES
ROCKSTAR PRO ALUMINUM HUBS
T1 TREAD
F3 RATCHET STRAP BINDINGS
SANDWICH COMPOSITE DECK
STAINLESS HARDWARE
SPECS:
OVERALL WEIGHT: 13.3lbs / 6kg
OVERALL LENGTH: 42.9?/ 109cm
AXLE TO AXLE LENGTH: 36.8?/ 93.3cm
DECK LENGTH: 37.0?/ 94cm
DECK CONSTRUCTION: SWC (Sandwich Constr.)
DECK STIFFNESS: 4
DECK TIP ANGLE: 25 degrees
TRUCK WIDTH: 15.5?/ 39.4cm
AXLE O.D.: 12mm O.D.
BINDING: F3 Ratchet Strap
TIRE: 8?/ 20.3cm
HUB: RockStar Pro Aluminum 5 Spoke
BEARING: 9.5X28mm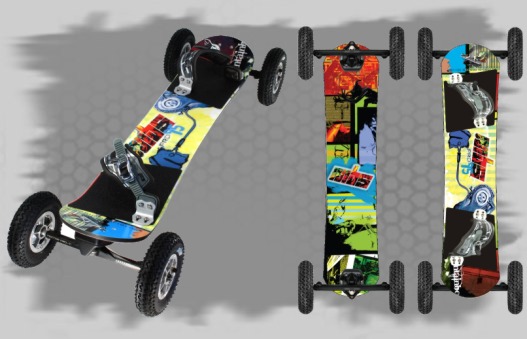 图片1


图片2