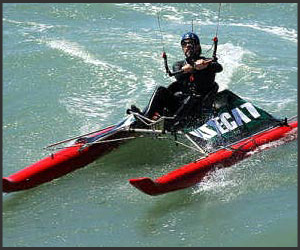 图片1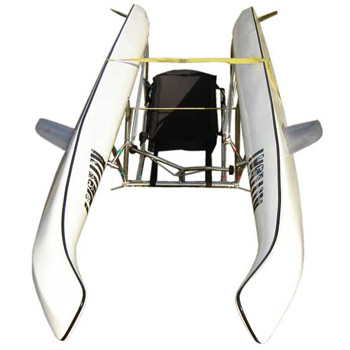 图片2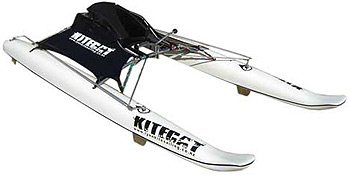 图片3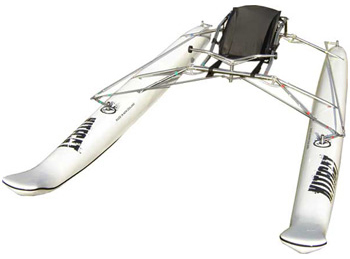 图片4

Peter Lynn Kite Sailing is proud to introduce the KiteCat. The ultimate kite powered catamaran, which is very easy to control, even with little kite experience. The KiteCats designer, Peter Lynn based in New Zealand, had a vision of making multipurpose kite sailing accessible for everyone, the result is the KiteCat
The KiteCat is steered by four stainless steel rudders, which are operated and controlled by foot, while the sailor flies and controls the water relaunchable kite by hand. Whether there's a gentle breeze or if its howling, you can still grab a kite and get on board the KiteCat and have the ultimate sailing experience!
As more and more people enter the world of kite sailing the racing scene will start to grow, enabling course racing. So keep your eyes peeled because next time you're on the water you may see a KiteCat scream past you!
Performance:
Its amazingly responsive!! The Kitecat turns as quick as a buggy which is exactly what is needed to handle the waves and to wash off power, this is achieved by the unique steering system developed by Peter Lynn. It incorporates rudders just forward of the centre as well as the rear of each hull. This gives you the ability to really throw the KiteCat around! The acceleration after a jibe is unbelievable - get the hang of the KiteCat and its really hard to go back to a normal sailing boat.
The upwind performance is competitive with most conventional sailing craft and much greater compared to a kite surfer
Speed matches any other watercraft on the water
Can be used on all types of water; sea, lake or reservoirs
Wave tolerant and stable in surf 1.5m+
Anti heeling (sideward stability) meaning ultimate stability when your kite is pulling
Large wind range, from 5mph – 60mph, depending on your flying skills
Lightweight construction enables use on and off the water by a single person
Wind range - From 5kph to 50+kph
Reaching and downwind sailing - Can be faster than almost any other sailing craft, more than 50kph has already been achieved
Wave Tolerant - The Kitecat is extremely wave tolerant and stable. It's useable to 1.5m (face measure) waves, with care and skill.
Stability in heeling and in surf is much better than any comparable size sailboat.
Moderate skill and athleticism is necessary, not particularly age or gender limited. Currently lower set up cost than other sailing options, relative to speed and performance.
The KiteCat is conceived and presented as a single-design boat for racing and recreational sailing. It does not require a high level of athleticism or physical strength but does require and reward skill. KiteCat kitesailing is similar to kitebuggying, not as demanding as windsurfing or kiteboarding.
History:
The KiteCat was designed by Peter Lynn from New Zealand , the final result of intensive development since 1987. With over a hundred and fifty prototypes of every conceivable style, it's fair to say that Peter's dedication to kite-sailing throughout the many years has been a driving obsession. His aim, achieved at last, is to make all-course kitesailing practical for the widest range of users in the widest range of wind and water conditions.
The KiteCat is a cross-over from a variety of different sports. If you've never flown a high performance kite before, or aren't from a sailing background…..have no fear!! The KiteCat is relatively easy to use, with beginners sailing successfully after as little as a single day's instruction and practice. There is almost no limit to the level of skill that can be attained however, progress is satisfyingly continuous from that first day.
The KiteCats are beginning to receive more and more attention on a global scale from people of various backgrounds and interests in countries such as Australia , Canada , Italy , Kuwait , New Zealand and the USA . With continued awareness of kite-sailing, the KiteCats are sure to find their place in the 21st century.
Awards:
Team KiteCat have won winning awards at Weymouth Speed Week, UK 1-7 October 2007. Placed 2nd, 4th and 5th over all and winner of the D Ward Innovation trophy
Product Over View:
High-grade stainless steel frame
Light weight, high quality, polyester hulls with re-enforced strength
Extra comfortable foam padded adjustable seat
All KiteCats come with a folding frame for easy storage
Transportable by roof rack
General Specifications (Assembled):
Total length (including hulls) – 4.3m
Width - 2.0m
Height - 0.8m
Weight - 35kg
Available in White, Yellow or Red